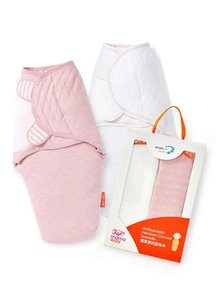 The simplest way to swaddle your baby. The swaddle is made with smartcel™ sensitive, which is an innovative antibacterial natural fiber with essential trace element zinc that possesses antibacterial and odor-reducing properties, ideal for babies with sensitive skin or skin conditions such as eczema. -Antibacterial & Anti-odor: Zinc oxide possesses strong antibacterial properties, especially against odour causing bacteria, which helps to make garments stay fresh longer. To learn more smartcel sensitive, you can visit smatfiberAG offecial website. -Eco friendly: The fiber is produced without the use of aggressive chemicals and is made solely from renewable raw materials, making it both eco-friendly and fully biodegradable. -Can be adjusted according to the baby's size with attached velcro design. -Ultra soft cotton, gentle and safe on baby's skin.
Color:Pink/White, Blue/White

Material 
84%cotton 9%viscose 7%polyester

Special Instructions for Storage and Handling
hand wash/ do not soak, bleach, tumble dry
* Do not wash with sharp items to avoid damage to the wrap. Stick the velcro straps before wash to avoid sticking onto other clothing.

Net weight: <1 kg
If out of stock, email us to have it shipped to you within the week.