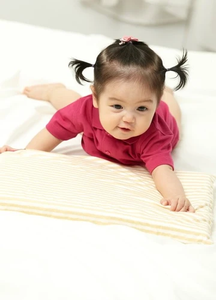 Not too big, not too small but just right for a pint-sized person. This cot pillow is designed to be everything your little person needs from their first pillow. Made with medical grade hypoallergenic materials. -Medical Grade / Hypoaalergenic: Made from medical-grade,hypoallergenic material.Keeps your bedding free from bacteria and dust mite. Ideal for eczema and allergy sufferers.
-European Standards: Passed REACH SVHC/ 173 SGS toxicity tests, no harmful chemicals.
-Breathable & absorbent: Highly breathable, moisture-absorbing pores draw sweat away to keep your baby dry.
-Temperature-Regulating: Uses purified water as the expanding agent, offering optimal comfort through all seasons.
-CRABYARN Pillowcase: Naturally hypoallergenic and antibacterial for your peace of mind.
-Can be used as a calming pillow for fever relief.
Material 
Pillow Case: 96% Cotton, 4% Viscose (CRABYARN®)
Foam Shell: 65% Polyester, 35% Cotton
Foam: 100% Hydrophilic Polyurethane (Medical Grade Foam)

Special Instructions for Storage and Handling
Wipe off stains on the surface, then spray with clean water and pat dry with a dry cloth or paper towel. Repeat until clean and then air-dry in the shade, away from sunlight. Foam is not washable, spot clean only. Outer covers can be removed and hand washed. This range does not contain brightening agents. Yellowing after prolonged use is normal and does not affect product performance or foam longevity.
Net weight: <1 kg
Product dimensions: 40cm x30cmx2.5cm
If out of stock, email us to have it shipped to you within the week.