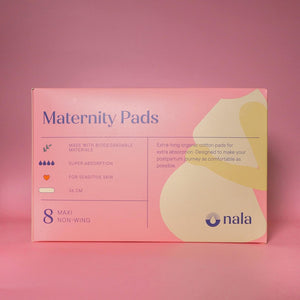 Maternity pads made with 100% GOTS-certified organic cotton grown without the use of pesticides, herbicides, chemical fertilizers. Nala pads are perfume-free, fragrance-free, and chlorine bleach-free.
Each box contains 8 pieces individually packaged in cornstarch biodegradable wrappers and secured with a biodegradable back sheet film.
Each Maternity Pad is 36cm long and can hold 300-350mL of liquid.
How to Use:
1. Wash your hands thoroughly before handling the sanitary pad.
2. Open the wrap and take out the sanitary pad and the backsheet film.
3. Stick the sanitary on the underwear
4. Dispose of the wrapper and backsheet film in the proper trash bin.
Materials:
100% Organic Cotton, Corn Polylactic Acid Individual Wrapper & Backsheet Film, Wood Fluff Pulp Japanese Sumitomo Super Absorbent Polymer, Food Grade Glue
Expiration Date: 08/08/2025