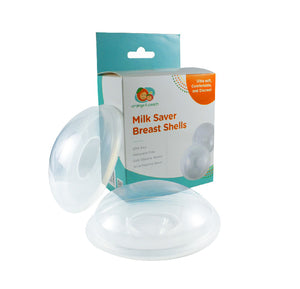 Orange and Peach Milk Saver Breast Shells is designed to help collect breastmilk discretely while being worn under clothing. Its soft silicone backing provides a comfortable experience while preventing breastmilk leaks. The milk saver breast shells ultimately helps provide relief to sore and cracked nipples by shielding the area from clothing materials. It has the following features: Made with BPA Free Plastic, Soft silicone backing for comfortable experience, Fits most breast sizes, Comes with a storage pouch, Can be worn inside your bra for a discreet experience
How to Use
Place the breast shells inside your bra with the silicone backing pressed against and centered on your nipple area. Adjust for a more comfortable fit. Make sure that the pouring spout is positioned upwards to prevent leakages. Gently remove after use and discard breastmilk that has been collected for a prolonged period of time.
Material
BPA and Phthalates free
Special Instructions for Storage and Handling
Wash the product with warm water and soap before initial use. The product can also be sterilized. Always wash the product after every use.
Net weight: <1 kg
Product dimensions: 11 x 4 x 15 cm
If out of stock, email us to have it shipped to you within the week.