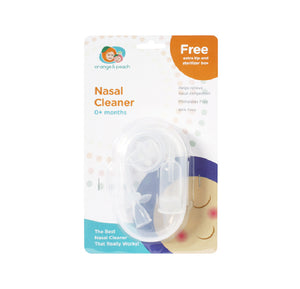 An aspirator can be a convenient device for bringing comfort to a child, and parents should find one that works most effectively for them. Luckily for us, Orange and Peach® has come up with the latest Nasal Cleaner that can clear nasal passages, allowing infants to sleep more soundly, and letting them recover faster from sickness. It has the following features: BPA and Phthalates Free, With extra nasal tip and sterilizer box, Transparent to let you see color of mucus from baby's nose, Washable and Sterilizable, No need to replace/buy extra parts

How to Use
Place the tip close to the nostril. Place the mouthpiece (at the other end of the silicone tube) in your mouth and apply suction. The mucus collects hygienically in the sealed tip base. You have complete control by varying the level of continuous suction. Start slowly and gradually increase the strength of suction. If mucus is thick or dry, dropping saline solution in the nostrils may help. Clean the nasal cleaner before and after each use. Remove the tip from the tip base. Squeeze lower part of the tip to open the lid and wash away the mucus using warm water and soap. Dry thoroughly before storage. Sterilize the nasal cleaner if using between infants.

Material
BPA and Phthalates Free

Special Instructions for Storage and Handling

Safety precautions: Never push the tip or nozzle deeply into baby's nostrils. Never use on mouth or ears. Do not blow air into the mouthpiece while the cleaner is inside the baby's nostril. Keep out of reach of children. Use under adult supervision.

Net weight: <1 kg
Product dimensions: 14 x 4 x 18 cm
If out of stock, email us to have it shipped to you within the week.