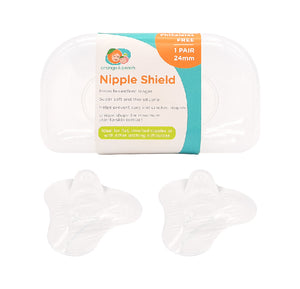 Orange and Peach Nipple Shield can help Moms breastfeed longer especially if they are suffering from sore and cracked nipples or are experiencing latching difficulties. Made of super soft and thin silicone for maximum comfort, BPA and Phthalates FREE, 24mm universal standard nipple shield size, Unique shape for maximum skin-to-skin contact

How to Use
Place the nipple shield firmly onto nipple and areola area. Use your thumb and finger to securely hold the nipple shield in place while latching baby. Wash and sterilize after every use. Store in storage case when not in use. Discard when the product is torn.

Material
BPA and Phthalates free

Special Instructions for Storage and Handling
Do not store under direct sunlight. Use under adult supervision.

Net weight: <1 kg
Product dimensions: 11 x 6 x 4 cm
If out of stock, email us to have it shipped to you within the week.