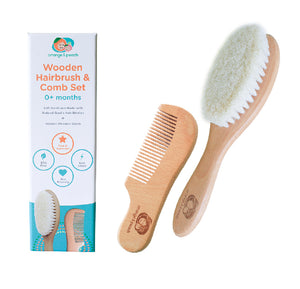 The new and improved Orange and Peach Natural Wooden Hairbrush and Comb set uses natural goat's hair bristles and beech wood to gently brush and massage baby's scalp and hair. It can also help prevent cradle caps. The set comes with a natural wooden comb for detangling and styling. It has the following features: Made of natural beech wood, Made of Goat's hair bristles for baby's delicate and fine hair, For newborns and up, BPA Free / No harsh chemicals / Non Static, Great for gifts and baby showers

How to Use
There is no need to wash the brush or comb before initial use. But if you prefer to clean it, just wash it gently with soap and water. Make sure there is no soap residues left behind. Hang the hairbrush to air dry with bristles facing down.
Material
Natural Beech Wood, Goat's Hair Bristles
Net weight: <1 kg
Product dimensions: 6 x 5 x 20 cm
If out of stock, email us to have it shipped to you within the week.