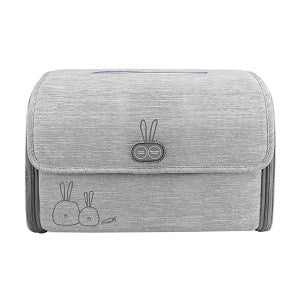 "Intended for plastic & plush toys, building blocks, electronics, picture books, etc.
One click to sterilize all the toys within 3 mins.
APPLICATION: Sterilization of any product from baby clothes, toys, gadgets and other items.
Item Specification:

MODEL: P18M
INPUT: 5.0V===2A
UVC LED BEADS: 12 pcs.
DIMENSION: 12.99 x 10.24 x 7.87 inches
NET WEIGHT: 0.708 kg
WAVELENGTH: 260-280nm
POWER SUPPLY INTERFACE: Micro USB
UVC LED LIFESPAN: 10,000 hours"
How to Use
1. Make sure to seal up all the zippers, and place the partition holder inside
2. Zip up and plug in power adaptor(5V 2A or the default "59S" power bank.
3. Open the sterilizing bag, put into items that are to be sterilized. (Please keep all items opened before sterilization.)
4. Close the cover of sterilizing bag, press button to start sterilizing, the LED indicator is flickering, and sterilization lasts for 3 Mins.
5. When sterilization completes, indicator stops flickering to solid white.


Net weight: .71kg
Product dimensions: 12.99 x 10.24 x 7.87


If out of stock, email us to have it shipped to you within the week.