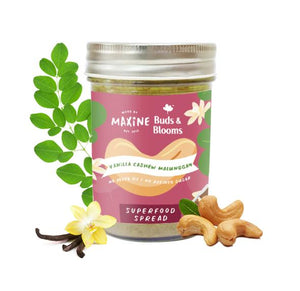 Buds & Blooms teamed up with Made by Maxine to create a delicious Cashew Butter Lactation spread.
This delicious guilt-free spread is infused with freshly picked malunggay leaves, and naturally sweetened with organic coconut sugar and organic vanilla. Each spoonful is made with real, wholesome ingredients—no added oils and refined sugars.
What makes it work?
This lactation spread contains a generous amount of natural galactagogues equivalent to 2 Buds & Blooms Pure & Young Malunggay Capsules per serving!

It's a tasty treat that's healthy for moms. Because of its high protein and fiber content, this nut butter will keep you full for a long time and it's Malunggay content can improve immunity and boost milk supply. Moms can enjoy it as a spread, topping, or simply on its own.
Moms will Love this Spread!

- Malunggay Boosts Milk Supply
- Cashew increase the creaminess of breastmilk
- Lowers risk of heart disease
- Keeps you full longer
- No added oils and refined sugars

Ingredients:

Cahew, Organic Coconut Sugar, Buds & Blooms Pure & Young Malunggay Powder, ground cinnamon, Organic Vanilla Bean extract, and a touch of salt

Why Cashew, not Peanuts?

Cashew are an amazing natural glactagogue that not only increases breastmilk quantity but also adds richness and thickness to mommy's milk. Furthermore G6PD Babies are advised against intake of legumes which includes peanuts. Cashew are not a legume and are considered safe for babies with G6PD.

Who can Take it?

Mommies can start taking Malunggay as early as their 3rd Trimester to simulate milk flow. Dads, kids & anyone can also take this spread to boost daily immunity. Don't worry! It will not cause non-breastfeeding individuals to lactate.

Allergen: Please do not take this spread if you have a nut allergy.