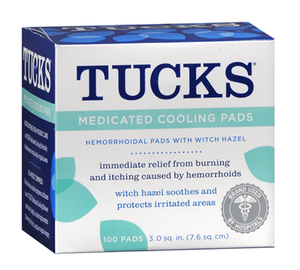 P10.00/pad
Hemorrhoidal Pads with Witch Hazel.
Brand Used by Hospitals®
Provides immediate relief from burning and itching caused by hemorrhoids.
Witch Hazel soothes and protects irritated areas.
Medicated Cooling Pads are pH balanced, hypo-allergenic, dye-free.
Other suitable uses: Hygienic Care – Pads can be used daily to cleanse outer rectal and/or vaginal areas; As a Moist Compress – Pads can be folded and used as a moist compress on inflamed tissue.
Medicated Cooling Pads are particularly helpful in relieving discomfort following childbirth, rectal or vaginal surgery.