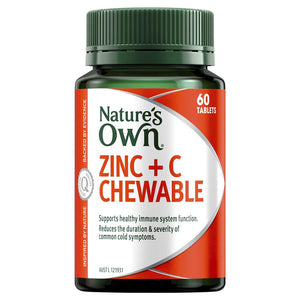 P18.33/capsule
Zinc plus C, Chewable helps maintain a healthy immune system. It may reduce the severity & duration of the symptoms of colds. This formula is also beneficial in helping to maintain healthy skin and promotes the healing of wounds.

How to Use
Chew 2 tablets twice a day or as recommended by your healthcare professional.
Ingredients

Special Instructions for Storage and Handling
Store in cool and dry place, keep away from direct heat

Net weight: <1 kg

If out of stock, email us to have it shipped to you within the week.

This item is not eligible for next day delivery, delivery from this brand will take 1-3 days.