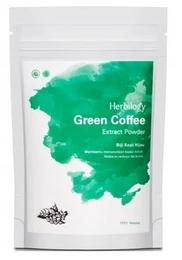 Herbilogy Green Coffee Extract Powder 100g

Ingredients
100% Super Fine & Premium Green Coffee Extract Powder, without added sugar, dyes, flavorings, MSG, preservatives or chemicals.
Origin: Highlands of Aceh
Taste: slightly creamy, mildly sour
Color: cream to pale pink
1 teaspoon of Herbilogy Green Coffee Extract Powder is equivalent to the benefit of 3 tablespoons of green coffee beans.
Benefits
Green coffee beans are fresh coffee beans that have not been roasted yet. The coffee that we drink are usually roasted. Green coffee beans naturally contain chlorogenic acid, an active ingredient that helps increase metabolism which will prevent fat accumulation in the body. Good metabolism is required for healthy and natural weight management with no side effects. Green coffee also contains natural antioxidants which protect and rejuvenate the body.

Serving Recommendation
Herbilogy Green Coffee Extract Powder completely dissolves in food/drinks. Simply mix and stir teaspoon (3 grams) of Herbilogy Green Coffee Extract Powder into a cup of warm water until dissolved (honey and lemon may be added), a glass of warm tea or coffee. It can also be mixed into a glass of juice, smoothies, or even sprinkled on cookies, cereal and others. See here for the food/beverages ideas.

Intake recommendation
One to three times a day, 30 minutes before meals. If you have ulcer symptoms, drink after meals. Balance your diet at the same time (avoid fried foods, sugar, and high-fat foods), drink plenty of water and exercise regularly.