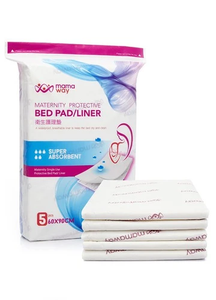 You may bleed for as little as two to three weeks or as long as six weeks after birth. Many moms are surprised to learn that you bleed for longer than a typical period. That said, postpartum bleeding is particularly messy. Using Mamaway disposable bed pads can help you catch the blood, reduce your laundry costs, prevent irritation on your skin and keep you comfortable during the night. You can also use it as period sheet protector, nappy change mat. -Material: Non-woven fabric, high absorption paper, wood pulp, high absorption polymers, leak-proof PE membrane
-Size: 60cm X 90cm 5 Pads/ Pack

Material 
Non-woven fabric, high absorption paper, wood pulp, high absorption polymers, leak-proof PE membrane
Special Instructions for Storage and Handling
Nursing pads should be changed every 2-3 hours, even if they are only slightly soaked or feels dry to the touch. Breast milk starts developing bacteria as soon as it comes in contact with air so frequent changes are essential for you and your baby's health.

Net weight: <1 kg
Product dimensions: 12.5cmx11cmx18cm
If out of stock, email us to have it shipped to you within the week.