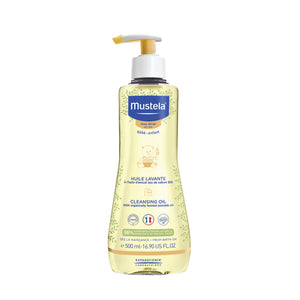 Mustela Cleansing Oil 500 ml, for Dry Skin
WITH ORGANICALLY FARMED AVOCADO OIL

500ml pump-dispenser bottle

PROPERTIES
Nourishing Cleansing Oil with reduction of tightness effect, from birth on(1):
• Gently cleanses and leaves a protective film
• Softens the skin of feelings of discomfort and tightness
• Lastingly nourishes the skin and protects against the drying effects
of hard water
Ü Leaves the skin soft, supple and comfortable

COMPOSITION
• Organic avocado oil: with nourishing and protective
properties that helps to limit skin dryness.
• Avocado Perseose®, patented natural ingredient: protects the skin barrier, moisturizes, and preserves the skin's cellular richness.
• Glycerin of natural origin: with moisturizing and protective properties.
• Mild surfactant: gently cleanses without drying out the skin.
• Soap-free

98% INGREDIENTS OF NATURAL ORIGIN

OUR COMMITMENTS

CLINICALLY PROVEN EFFICACY
• Gently cleans the skin: 98% agree(2).
• Compensates for the drying e¬ffect of hard water: 92% agree(2).
• Soothes the skin of feelings of discomfort and tightness: 84% agree(2).
• Leaves the skin more supple, soft, and comfortable: 93% agree(2).

SAFETY FROM BIRTH ON
• Dermatologically tested.
• High cutaneous and ocular tolerance.
• Soap free.

PLEASURABLE TO USE
• Soft texture and foam particularly suitable for delicate and dry skin.
• Leaves a unique scent on the skin.
• Tear-free formula.
• Shower and bath use
ENVIRONMENTALLY FRIENDLY
• Natural ingredient organically farmed: avocado oil.
• Patented natural active ingredients from a responsible supply chain: Perséose d'Avocat®.
• Recyclable bottle(3).
• Biodegradable formula(4).


Directions for use: Apply to wet skin or pour directly into bathwater. Rinse thoroughly and dry gently. Shower and bath use. Face, body, and hair.

INGREDIENTS: AQUA / WATER / EAU, GLYCERIN, CAPRYLYL / CAPRYL GLUCOSIDE, HYDROXYPROPYL GUAR, CITRIC ACID, SODIUM BENZOATE, PARFUM (FRAGRANCE), POTASSIUM SORBATE, PERSEA
gratissima (AVOCADO) FRUIT EXTRACT, PERSEA GRATISSIMA (AVOCADO) OIL.

(1) Including newborns out of the NICU.
(2) Use test conducted under dermatologic and pediatric control on 65 babies and children, over 21 days (self-assessment).
(3)Recycling standards for the French market.
(4)According to OECD method 302B.