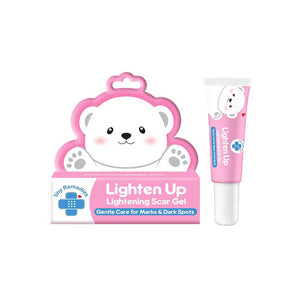 Lighten Up! by Tiny Remedies is made with a blend of natural ingredients that help reduce the appearance of scars and dark marks. Our gentle formulation is suitable for sensitive skin.
Natural Ingredients
Safe for Sensitive Skin
Paraben Free
Steroid Free
Safe for Face & Body
Works Best to Lighten dark marks left behind by: 
Mosquito Bite Marks
Cuts & scratches 
Chicken Pox 
Old & New scars
Acne Scars & Sun Spots (for Teenagers & Adults) 
Directions for use:

Apply a thin layer on scar and massage gently until the gel is absorbed into skin. Apply 2-3x a day.  Please use continuously for best results
If out of stock, email us to have it shipped to you within the week.