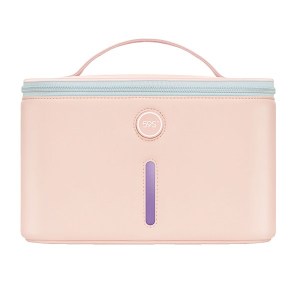 Deodorization: UVC light neutralize odors
Processing Speed: Only 3 minutes to sterilize things effectively with UVC light
360° Sterilization: Bilateral arrangement of UVC lamps and reflective material of the entire container
Versatility: Suitable for sterilizing hygiene products, makeup tools and brushes
Portable design: Lightweight and portable
APPLICATION: Sterilization of any product from makeup, makeup tools and makeup brushes Item Specification:

MODEL: P25
INPUT: 5.0V===2A
UVC LED BEADS: 12 pcs.
DIMENSION: 9.45 x 7.68 x 5.91 inches
NET WEIGHT: 0.417 kg
WAVELENGTH: 260-280nm
POWER SUPPLY INTERFACE: Micro USB
UVC LED LIFESPAN: 10,000 hours

How to Use
1.Unzip and place the partition holder inside.
2.Put into dry items that are to be sterilized, and keep them tiled without overlapping
3.Zip up and plug in power adaptor(5V 2A) or the default "59S" power bank.
4.Press button to start sterilizing and deodorizing, the LED indicator is flickering, and sterilization lasts for 3 Mins
5.Take out items when the process completes with indicator stop flickering.



Net weight: .42kg
Product dimensions: 9.45 x 7.68 x 5.91

If out of stock, email us to have it shipped to you within the week.