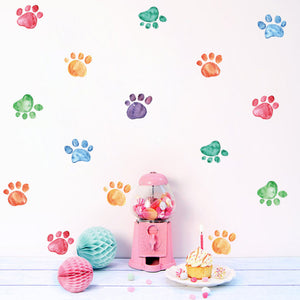 Prince or not, they leave paw prints in your heart. Have fun decorating your kids bedroom or nursery. No need for professionals, this DIY home decor item will liven up your house. Whether it's your living room, bedroom or bathroom - Just peel and stick! This set includes 42 paw print stickers. Area coverage depends on how you space the stickers. Our wall decals are made of individual PVC stickers - easy to stick, easy to remove, and won't damage your wall paint. As such, they will not pull your paint off and can be repositioned at will without ever leaving any sticky residue.
How to Use
How to apply your wall decals:
1. Wipe your wall clean.
2. Cut your stickers into shape to separate them.
(Optional_ 3. Bring out the artist in you and stick those stickies where you want them!
Tips & Tricks: Use a any card, ID or credit card to push those decals and make them stick harder on the wall.
Materials
Vinyl
Net weight: <1 kg
Product dimensions: 8 x 12 inches