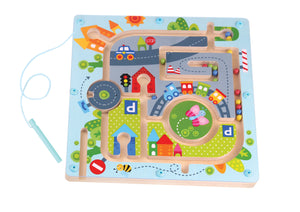 This Wooden Magnetic City Maze is composed of an interactive maze with 1 magnetic wand and colorful beads inside. Let your child guide the balls through the paths with the attached magnetic wand and explore the different roads and intersection of the city maze. 
Age: 3+ 
Features: - City building-theme, with people, traffic sign and many kinds of cars in the panel . - The colorful graphics will attract children's attention. - Promotes eye-hand coordination visual tracking and fine motor skills while keeping kids entertained. 
Net weight: 0.4kg
Product dimensions: 28x28x1.8cm 
If out of stock, email us to have it shipped to you within the week.