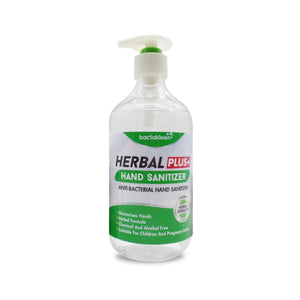 P1.39/ml
Specially formulated to provide powerful but safe anti-bacterial and anti-viral effect. Hand sanitizers are made using different ingredients and many manufacturers choose the cheapest ingredients that will kill bacteria but are potentially dangerous for people. The common ingredients in chemical based hand sanitizers are alcohol, benzalkonium chloride or triclosan. Despite its claims that these ingredients are safe in small doses no one knows how much of these ingredients are used when the products are being manufactured. This exposes children to the danger of poisoning since their livers are not matured and are susceptible to alcohol or chemical damage from prolonged use of chemically made hand sanitizers.
There is no substitute for safety and there is no safer solution that from mother nature.
Bactakleen's Herbal Hand Sanitizer is made from proven herbal extracts such as tea tree oil, lime and aloe to combine the power of anti-bacteria and anti-viral effect that is also gentle on the skin.
Benefits:
Non-toxic
Immediate effect
Gentle on skin
Safe for continuous use
No artificial scent
Safe for children and pregnant women
If out of stock, email us to have it shipped to you within the week.