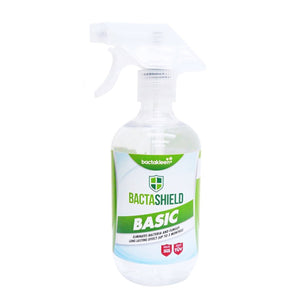 100ml  - P1.30/ml
500ml - P0.90/ml
4L -  P387.50/L
A non-toxic water based anti-bacterial and anti-fungal spray that will eliminate up to 99.99% of bacteria and fungus on any surface. Bacteria and fungus spores will die with immediate contact with any treated surface. One spray on the surface will last up to 3 months for long term protection. Bactashield Basic is completely transparent and odourless and is 100% safe on any surface.
AREAS OF APPLICATION
Toilets
Bedrooms
Kitchen
Air-condition Vents
Vehicles
Switches
Equipment
Sports Equipment
If used with our new sprayer 500ml is enough for 1 room approximately 35 sq. meters' size
It is good for instant disinfection of contact surfaces and also can be used for rooms such as bedroom, hotel, office, hospital, cinema, factory, farms and etc. It is suitable for applications where there are smoke sensors. Has no color or smell. Water based.
*USED WITH THE POWER SPRAYER MACHINE
If out of stock, email us to have it shipped to you within the week.