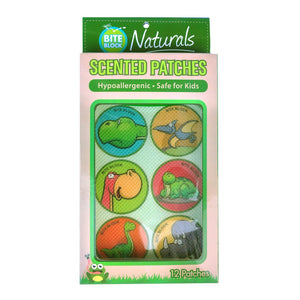 P10.58/patch
Bite Block Naturals Scented Patches

- Mild and safe for babies 6 months and up
- Contains 12 scented patches
- Natural-based
- Hypoallergenic
- Non-toxic
- Paraben-free

- Comes in 3 different designs
- Safe for active kids, teens, and even adults
Peel-off patch from the pack and stick on clothes, strollers, bags and other objects near your baby/child. Do not apply on damaged or broken skin. The patches last up to 6 hours depending on the season as heat may cause faster evaporation of oil compared to cold temperatures. Store remaining patches in the resealable pack for future use.

Ingredients
Citronella Oil 30%, Eucalyptus Oil 20%, Pomelo Oil 15%, Lemon Oil 10%, Peppermint Oil 10%, Menthol 10%, Orange Oil 5%

Expiry
3 Years from Manufacturing
Special Instructions for Storage and Handling
Do not expose to sunlight
If out of stock, email us to have it shipped to you within the week.