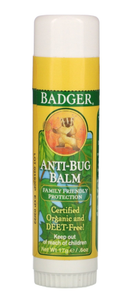 P33.24/g
Badger Company, Anti-Bug Balm, .60 oz (17 g)
• Family Friendly Protection
• Certified Organic and DEET-Free!
• Good for the Skin. Bad for the Bug.®
• Certified B Corporation
• Certified Gluten-Free
• Certified Organic by NH Dept. of Agr., Mkts. & Food
Tested to be effective against mosquitoes and stable flies for up to three hours. Not tested to repel other biting insects or pollinators.

♢Extra virgin olive oil

 

How to Use
Apply to entire area of skin to be protected and reapply as needed.
Caution: May cause eye irritation. Avoid contact with eyes. Prolonged or frequently repeated skin contact may cause allergic reactions in some individuals. Keep out of reach of children. Adult supervision required. Do not apply to children's hands.
First Aid: In case of eye contact, wash eyes with plenty of water. May cause skin reactions in rare cases. If eye or skin irritation persists, get medical attention. Store below 90F. Do not reuse container, clean before recycling.

Ingredients 
10%*castor oil, 5% *citronella oil, 2% *cedarwood oil, 2% *lemongrass oil, 1% *rosemary oil, 1% *geranium oil. Inert ingredients (79%) *♢olive oil, *beeswax. EXTRA VIRGIN OLIVE OIL - CERTIFIED ORGANIC

Expiry
Jun-22

Special Instructions for Storage and Handling
Keep in cool /dark place. Room Temperature. 
Do not place on direct sunlight.
Fragile, take care not to fall.

Net weight: 0.05 kg
Product dimensions: 9.7 x 2.5 x 2.3 cm
If out of stock, email us to have it shipped to you within the week.