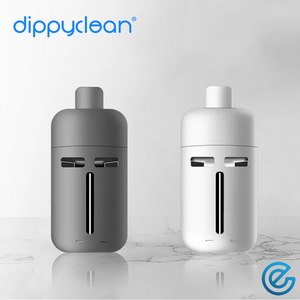 Dippyclean works by harnessing the power of electrolyzed water. When you pass electricity through a saltwater mixture, you create electrolyzed water.
– Exterminates 99.95% of viruses and germs that it comes into contact with.
– It is completely safe, sterile and non-toxic and eco-friendly!
– Literally blows up bacteria by breaking its outer cells and bursting it with water.
All you have to do is add tap water and salt to Dippyclean. 300 ml water + 1 gram salt for the mixture 
Product Description:
Dimensions: 22 x 40mm
Weight: 50g
Technical Specifications:
• Ready-to-use Sodium Hypochlorite solution
• Adjustable Concentration Production
• Salt + Water Only
• Compact & Portable
• USB Powered
• Adapter
• Powerbank
• CE, EMC, FCC Certified, Patented
Dippyclean creates a sodium hypochlorite based disinfectant using just tap water, salt and electrolysis. Allow 10 minutes to process, transfer to a spray bottle and get cleaning! Spray and wipe on almost any surface in your home or workspace!
– Exterminates 99.95% of viruses and germs that it comes into contact with.
– It is completely safe, sterile and non-toxic and eco-friendly!
– Literally blows up bacteria by breaking its outer cells and bursting it with water.
When electrolyzed, the water and salt turn into a solution of hypochlorous acid and sodium hydroxide, which acts as a remarkable detergent and disinfectant, instantly killing bacteria, cleansing off harmful chemicals from food, purifying the air, as well as busting odors. The technology creates an all-purpose cleaning solution that replaces the need for carpet-cleaners, floor-cleaners, room-fresheners, car-fresheners, fruit and vegetable purifiers, and general disinfectants. Needless to say, the electrolyzed water is food-safe, child-safe, and eliminates the need to clean your house with chemicals that aren't healthy.
If out of stock, email us to have it shipped to you within the week.