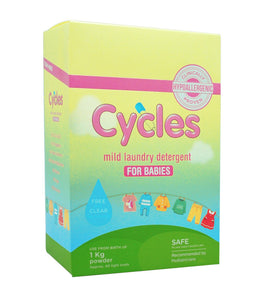 Cycles Mild Laundry Detergent for Babies

- Clinically proven hypoallergenic
- Mild and safe on baby's skin
- Free and clear from SLS & SLES
- No unnecessary ingredients: fabric softeners, optical brighteners, bleach, dyes, and enzymes
- Recommended by Pediatrician
How to Use
1. Separate white clothes from colored ones.
2. Measure detergent depending on size of load.
Light Load = 2 scoops
Medium Load = 3 scoops
Heavy Load = 4 scoops
3. For stained clothes, soak for 30 minutes before washing. For best results, use Cycles Stain Soaker.
4. Wash and rinse well.
5. Hang dry or machine dry.
If out of stock, email us to have it shipped to you within the week.