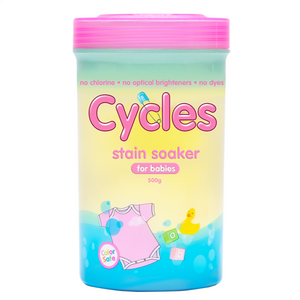 P0.44/g
Cycles Stain Soaker

- Color-safe
- No harsh chemicals like dyes, chlorine and optical brighteners
- Works on hard-to-treat stains such as those from play places, milk formula, food-colored snacks, condiments and diaper leaks.
How to Use
1. Add 2-3 scoops for every 3 liters of water or as desired.
2. Soak clothes into solution for 1-6 hours, depending on stain penetration.
3. Rinse and wash with Cycles Mild Laundry Detergent for Babies.
If out of stock, email us to have it shipped to you within the week.