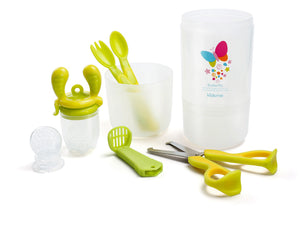 kidsme Baby Travel Easy Set is designed for use when traveling with your baby. It consists of a Food Feeder with large silicone sac, a large Silicone Replacement Sac for the Food Feeder, a Food Funnel, Multi-Function Food Scissors, a Spoon an a Fork as well as the bottom of the case, which can be used as a Food Container. All of these items fit within a compact and solid case, which can be easily stores in your bag, and carried without taking up much space.

How to Use
1) Food feeder - Use for feeding your child with solids
2) 3 in 1 scissors - Use for mashing or cutting solids
3) Spoon and fork - Use as normal utensils
4) Food container - Dual purpose, can be used as a food container or as a container for the travel easy set.

Material
Plastic/Silicone/stainless steel
Net weight: <1 kg
Product dimensions: 8.4cm x 8.2cm x 20.5cm
If out of stock, email us to have it shipped to you within the week.