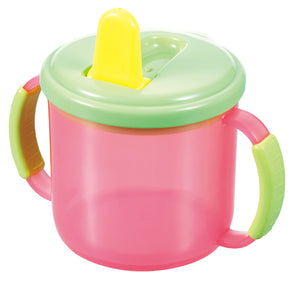 The Kidsme Silicone Spout Training Cup is designed to help your child through the weaning process- a training process where your child learns to move from nursing bottles into normal adult cups. The spout tip of this training cup slowly trains your child into accepting a different and wider form of liquid input. The cup is equipped with a cap which acts an anti-leak protection as well as a hygienic cap which shields the spout from dirt. The cup is designed with grips so that your child can have a firm grip on the bottle and makes it easier to drink from. 

How to Use
Use as a normal baby cup. Use handles to encourage the baby to self-feed.

Material
Plastic

Net weight: <1 kg
Product dimensions: 6cm x 6cm x 8cm
If out of stock, email us to have it shipped to you within the week.