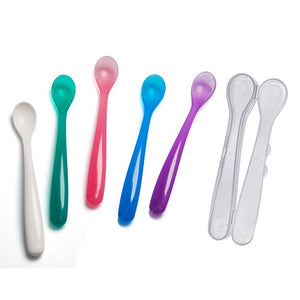 Product Features:
Mamajoo Baby Feeding Spoons are manufactured with latest technology, in our ISO 9001 certified production facilities from high quality BPA free raw material in line with EU standards.
Ergonomic long handle of the spoon is especially designed for a confortable hold and to reach the bottom of extra tall jars, support top behind the handle is especially designed to prevent the spoon to slip intho the plate while smooth edged shape and size is perfect for tiny mouths.
Storage Box for Mamajoo Baby Feeding Spoons is included in the package. This way, it offers a smart and economical solution for parents in order to store the spoon hygenically both at home and outside.
Product Advantages:
You can easily feed your baby from tall jars and wide neck feeding bottles with ergonomic long handle of Mamajoo Baby Feeding Spoon.
The smoothly shaped spoon edge is designed considering baby anatomy to fit the baby's mouth.
Support top behind the handle is conceived to prevent the spoon from slipping into the plate by gripping to the edge of the cup and plate and make life easier for you.
Storage box, with its shape suitable to the Mamajoo Feeding Spoon and its practical locking system provides the ideal solution for storing the spoon hygenically when you don't use it.
Mamajoo Baby Feeding Spoon is designed and produced to be flexible and at same time highly durable.for ease of use.
Cleaning & Sterilization: Mamajoo  Baby Feeding Spoons and Storage Box  can be cleaned easily with soapy water, washed in the upper shelf of the dishwashers and sterilized with Mamajoo sterilizers. Avoid using abrasive detergents