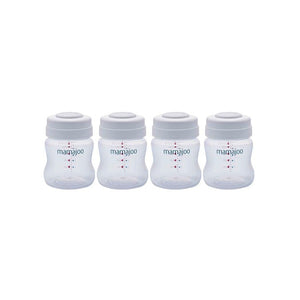 P349.50/pc
Product Features:
We consider babies' health on the foreground at production of Mamajoo products at our ISO 9001 certified high technology manufacturing facility by using highest quality BPA Free raw materials that conforms to EU standards.
Mamajoo Breastmilk / Baby Food Storage Containers are made of BPA free PP (PolyPropylene) raw material and its' semi-transparent colour is the guarantee for healthy baby feeding. They are designed with a wide neck, wide base and easy grab curves. Mamajoo Breastmilk / Baby Food Storage Containers are re-usable, so they are much more environment friendly and economic compare to disposable choices.
While heating breastmilk or baby food, Sealing Discs should be removed from the containers to be sure that the wide neck is open.
Special Instructions for Storage and Handling
Keep away from direct sun light and store in dry places.
Cleaning & Sterilization: Can be washed in dishwashers and can be sterilized with Mamajoo sterilizers or by boiling for 5 minutes. Mamajoo Breast Milk / Baby Food Storage Containers can be sterilized in hospital autoclave sterilizers up to 130 C

If out of stock, email us to have it shipped to you within the week.