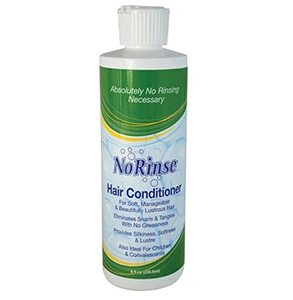 Eliminates snarls & tangles. Ideal for children & convalescents. Provide silkiness, softness & lustre Requires no rinsing. Instantly eliminates snarls and tangles with no greasiness. A more Efficient Method!

How to Use
Immediately after shampooing apply small amount to lightly towel-dried hair (amount depends on quantity of hair), massage, comb through, towel dry thoroughly ... and style. Rinsing is not necessary.

Designed for use after shampooing with famous "No-Rinse shampoo". Note: No-Rinse Hair Conditioner produces excellent results when used after any shampoo

Net weight: <1 kg
If out of stock, email us to have it shipped to you within the week.