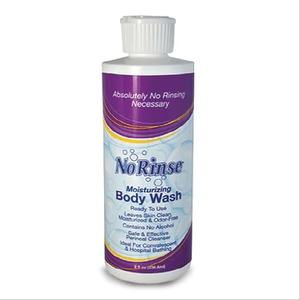 Leaves skin clean & moisturized. For convalescent & hospital bathing. Feel Clean and Refreshed without water. Leaves skin clean, moisturized and odor-free. Ready to use absolutely no water necessary. Contains no alcohol - Means no dryness. Ideal for convalescent & hospital bathing. Safe, Effective perineal cleanser. Gentle on sensitive skin. Mosturizes as it cleans. Less bathing time required. Reduces laundry & linen cost. The Choice of Health Care Professionals Throughout the World.

How to Use
Apply directly to skin or wash cloth. Massage to lather and towel dry. Leaves skin thoroughly cleansed and odor-free with virtually no residue.

Perineal Cleansing: Use as a safe, non-irritating perineal cleanser that eliminates offensive odors without rinsing.

Net weight: <1 kg
If out of stock, email us to have it shipped to you within the week.