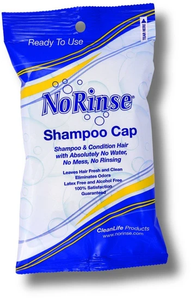 Shampoo & condition with no water
Eliminates odors & leaves hair clean
Latex & alcohol free
Ready to use

Shampoo & Condition Hair with Absolutely No Water, No Mess, No Rinsing

Leaves Hair Fresh & Clean
Eliminates Odors
Latex Free & Alcohol Free

How to Use
After heating, place shampoo cap on head (longer hair requires user to bundle hair on top of head prior to placement). Massage hair through shampoo cap until hair feels saturated (approx., 1-2 minutes for shorter hair, 2-3 minutes for longer hair). Excessive tangles or foreign matter in hair can require longer massage times or the use of more than one shampoo cap to complete the cleaning process.

Remove shampoo cap and discard the cap in an appropriate container. Towel dry, comb and style hair as desired.

©CleanLife Products

Warnings
Be sure the shampoo cap is not excessively hot prior to placing on head. Never apply a hot shampoo cap. Closely monitor shampoo cap heat levels when using on infants, unresponsive patients or sensitive skinned individuals. Remember, the wearing of rubber gloves can diminish your sensitivity to heat.

For individual use one. Never re-use the shampoo cap.

Net weight: <1 kg