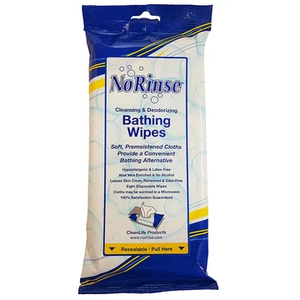 Provides convenient bathing alternative
Leaves skin clean, refreshed & odor-free
Hypoallergenic and latex-free

Soft, Premoistened Cloths Provide a Convenient Bathing Alternative.

Hypoallergenic & Latex-Free.
Aloe Vera, Vitamin E enriched & no alcohol.
Leaves skin clean, refreshed & odor-free.
Eight disposable wipes for one complete bath.
Warm cloths in a microwave.
Resealable.
Use One No Rinse Bathing Wipe For Each of the Following Areas.

Face, neck, chest.
Left arm.
Right arm.
Perineum.
Left leg.
Right leg.
Back.
Buttocks.
Antibacterial formula documented to kill E. Coli, Staph, Salmonella & Strep.

Wipes are 8"x8" needle punched polypropylene/polyester/rayon blend.

100% satisfaction guaranteed

Remove one cloth at a time, reseal package to hold heat, use cloth and then discard. Do not flush!

How to Use
Heating Instructions: Partially peel back label and place in microwave (for no more than one minute) or blanket warmer.

Caution: If wipes are excessively hot, do not use. Gloves reduce sensitivity to heat closely monitor heat level with infants, unresponsive or skin sensitive individuals.

For individual use only.

Net weight: <1 kg