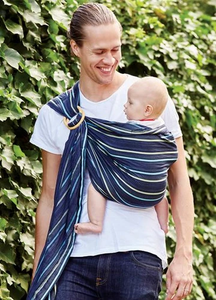 Suitable from newborn to toddler, this baby carrier offers comfort and safety. This perfect hands-free sling enables you to snuggle, settle and breastfeed the baby with ease. -One size fits all and fully and easily adjustable.
-Easy on your back: Baby's weight is evenly distributed along your back and shoulders to comfortably carry your baby or toddler.
-Ergonomic sling pouch: Supports baby's hips ang thighs, forming a healthy hip development.
-Newborn carry position: Snug like the womb, this sling can help settle your baby.
-100% safe: Weight tested to hold 50kg without damage to the fabric or the rings.
-Patented pocket design
-enabling easy transportation.
-Dimensions : Approx. 30kg x 15 X 5 / Weight 0.5kg (incl. packaging)

Material 
Sling: 100% combed cotton (ultra-strong, soft and breathable) 
Ring: Nylon 6.6 lightweight, incredible tensile strength, durability, and resistance to damage. 

Special Instructions for Storage and Handling
Cold wash in a laundry bag. Hang to dry in a cool place away from direct sunlight.
Net weight: <1 kg
Product dimensions: 13cmx6.5cmx22cm
If out of stock, email us to have it shipped to you within the week.