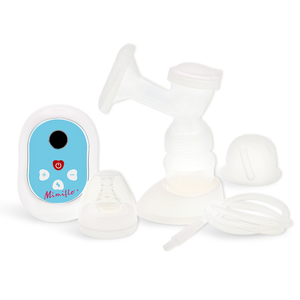 ✓ BPA-Free
✓ Non-toxic, No Phthalates, No Bisphenol A
✓ Light, powerful, portable, and quiet
✓ With LED Screen for easy monitoring
✓ Unique anti-leakage technology that prevents backflow of milk from motor
✓ 9 pumping modes and 4 massage modes
✓ Can be powered by any power supply that supports USB Input
✓ Silicone Massage Cushion has an automatic "suck and release" tempo that mimics a baby's nursing rhythm
✓ Electric Breast Pump Motor has an intelligent three-phase technology: gentle stimulation, intensify stimulation, normal sucking, and pumping
✓ Only compatible with wide neck bottles

Components:
✓ 1 PP Feeding Bottle
✓ 1 PP Breast Shield
✓ 1 PP Breast Pump Cover
✓ 1 PP Breast Pump Base
✓ 1 PP Breast Pump with Silicone Massage Cushion
✓ Breast Pump Motor
✓ USB Power Cord with Adaptor

Expressed breast milk can be stored in our Mimiflo Breast Milk Bottle Storage or Storage Bags.
Material
- High quality and BPA-free Polypropylene Plastic
- Pure Liquid Silicone Rubber Nipple
Special Instructions for Storage and Handling

Reminders:
- Sterilize the Mimiflo Electric Breast Pump before first use.
- Always wash your hands with soap and water before using the set.
- Check the parts for cracks, chips, tears, color changes, or breakdown. They can affect the function of the pump set. Replace parts when necessary.
- After each use, dismantle the pump set to clean. Wash all parts - EXCEPT the motor and AC adapter. Sterilize the pump set once a day.
- Consult with your doctor, lactation consultant, midwife, or other breastfeeding specialist to identify whether you are a suitable candidate for breastfeeding using the Mimiflo Electric Breast Pump.
Net weight:  0.98 kg
Product dimensions: 31.5 x 12 x 26 in
If out of stock, email us to have it shipped to you within the week.