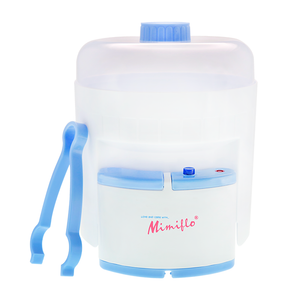 ✓ BPA-free
✓ Energy-saver
✓ Automatic Power shut-off after approx. 8-10 minutes
✓ With an unbreakable PP (Polypropylene) cover
✓ High Steam Sterilization
✓ Includes a measuring cup and tong
How to Use

1) Use the measuring cup included in our Steam Sterilizer by adding 75ml of water into the heating plate. Place the outer cylinder on top of the base.
2) Put your washed feeding bottles into the bottle holder, and cover it with the top lid.
3) Plug the Steam Sterilizer to the correct electrical outlet, and push the switch button. The light will turn on indicating sterilization is ongoing.
4) Steam Sterilization will last for about 8 minutes - harmful bacteria will be killed simultaneously.
5) Thereafter, the Steam Sterilizer will automatically shut-down, and its light will turn off.
6) Make sure the top lid is closed for at least three (3) hours after sterilizing so that it can keep the bacteria away.
7) Use the nursery tong to handle the objects just in case they are still hot.
8) Let the Steam Sterilizer cool down before using it again.

Check the instruction manual for more information.

Material
High quality and BPA-free Polypropylene Plastic
Special Instructions for Storage and Handling

Tip: There would be inevitable water stains in the stainless steel plate. To remove, boil a mixture of water and vinegar, then wipe it with a clean cloth
Net weight: 2.14 kg
Product dimensions: 22.5 x 22.5 x 28 in
If out of stock, email us to have it shipped to you within the week.