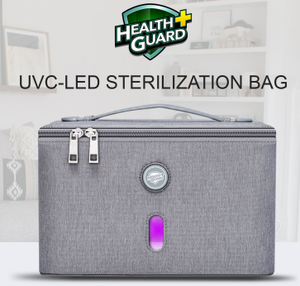 Sterilization rate of 99.99%

Package includes : UVC LED Sterilization Bag , Holder and User Manual

Radiation free, safe and reliable

24 UVC LED lamps

3min Rapid Disinfection

Environment Friendly

For daily use of small objects, such as mobile phone, electronic products, women's cosmetics, baby nipples, and other small objects.
How to Use
1. Open the zipper bag, put the items to be sterilized, and close the zipper bag.
2. Connect the power, the button light is always on.
3. Click the button to start the cycle. Light will switch off automatically after 3 minutes.
4. Disconnect the power, open the zipper bag, and take out the items.
5. Important : if the power light is flashing when the power is connected, it means that the magnetic switch is not engaged

Materials
Fabric + Alloy + PE + LED

Special Instructions for Storage and Handling
*Do not disassemble the product.
*Do not expose the product to fire, high temperature or water.
*When using the product, it is recommended to use the provided USB cable for charging.
*Keep away from children
*Please stop using the sterilization box if broken or if it not working.
*This device is not suitable for people with low physical, perceptual and mental abilities (including children) ,not suitable for people who lack relevant experience and knowledge, unless they are supervised or instructed to use this by a person specially responsible to their personal safety.
*Not to be used as a toy.
Net weight: <1 kg
Product dimensions: 245*195*150mm
If out of stock, email us to have it shipped to you within the week.