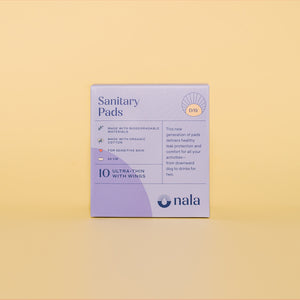 Ultra-thin sanitary pads made with 100% GOTS-certified organic cotton grown without the use of pesticides, herbicides, chemical fertilizers.
Nala pads are perfume-free, fragrance-free, and chlorine bleach-free. Each box contains 10 pieces individually packaged in cornstarch biodegradable wrappers and secured with a biodegradable back sheet film. Each Day Pad is 24cm long.

How to Use
1. Wash your hands thoroughly before handling the panytliner.
2. Open the wrap and take out the pantyliner and the back sheet film.
3. Stick the pantyliner on the underwear.
4. Dispose of the wrapper and back sheet film in the proper trash bin.

Ingredients/Material
-100% Organic Cotton
-Corn Polylactic Acid Individual Wrapper & Back sheet Film
-Wood Fluff Pulp Japanese Sumitomo Super Absorbent Polymer
-Food Grade Glue


Expiry
23/01/2025
Special Instructions for Storage and Handling
Store in cool & dry places.

Net weight: <1 kg
Product dimensions: 4 x 3.5 x 5 in 
If out of stock, email us to have it shipped to you within the week.