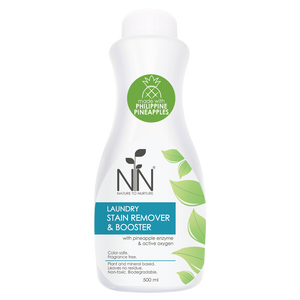 Our Stain Remover and Booster is safe yet powerful cleanser removes tough stains and brightens whites naturally. Contains pineapple enzyme and active oxygen to effectively remove organic, protein, oil stains and odor. Works well on other materials such as carpet, linens, upholstery and seat covers.Color-safe. Machine and hand-wash safe. Fragrance free formula ideal for sensitive skin.
Usage
-As Stain Remover: Scrape off any solid particles. Apply directly to stain and scrub lightly. Set aside for a few hours. Repeat process for stubborn stains.
-As Laundry Booster: Add a capful (25ml) to wash cycle or use as an alternative to laundry detergent for laundry that requires extra cleaning.
Ingredients
Water, coco fatty alcohol sulfate, potassium cocoate, citric acid, pineapple enzyme, sodium bicarbonate, sodium percarbonate, sodium benzoate

FREE OF NASTY CHEMICALS such as sodium lauryl/laureth sulphate (SLS/ SLES) phthalates, parabens, synthetic fragrances, dyes, phosphates, optical brighteners, chlorine, ammonia, DEA, formaldehyde & caustics.
If out of stock, email us to have it shipped to you within the week.