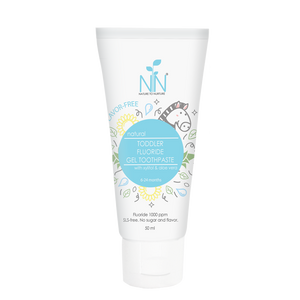 Our Toddler Fluoride Gel Toothpaste strengthens those first little teeth. It is designed to be flavor-free to discourage swalling, allowing it to stay longer on teeth where it does its magic. It doesn't foam and has mild abrasives to polish teeth. Non-foaming. No sugar. Vegan and cruelty-free.
Usage
Squeeze a pea size amount of toothpaste on soft toddler toothbrush or gauze. Brush in small, gentle, circular motions on teeth and gums after each meal. Use with adult supervision.
Ingredients
Sorbitol, aqua, hydrated silica, xylitol, xanthan gum, sunflower oil (Helianthus annuus), Aloe vera L. extract, sodium fluoride, citric acid, potassium sorbate
If out of stock, email us to have it shipped to you within the week.