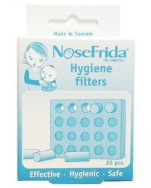 HYGIENIC: Disposable filters are clinically proven to prevent the transfer of mucus or bacterial germs to the snot sucker when clearing stuffy noses. Replace filter after every use.

20 HYGIENE FILTERS: Replace hygiene filter after each use to maintain suction effectiveness of the NoseFrida and minimize moisture buildup.

BETTER TOGETHER: For seamless snot sucking use these Hygiene Filters with Frida Baby's Nasal Aspirator NoseFrida The Snotsucker (not included).
If out of stock, email us to have it shipped to you within the week.This item is not eligible for next day delivery, delivery from this brand will take 1-3 days.