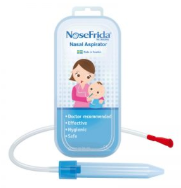 effective
hygienic
safe
With NoseFrida you can help your child breathe, feed and sleep better How to use nosefrida
place the nosefrida close to the nostril and apply suction. Apply again if not satisfied. If mucus is thick, first insert some drops of saline solution into the nostril.
Cleaning clean nosefrida after each use: wash out with soap and warm water. Rinse well and allow to dry. Change the hygiene filter.
Accessories nosefrida hygiene filter
safety the design of nosefrida will prevent damage to the child's sensitive nasal membrane, even if the child should make a sudden movement. Nosefrida is documented as safe for both the child and the user.
Warning!
nosefrida should only be used to clean children's and babies' noses of mucus.
not intended for ear and throat use.
do not blow air into nosefrida's mouth piece while the aspirator is placed at the baby's nostril.
this product is not a toy! keep all the parts out of reach of babies and children.
nosefrida should under no circumstances be attached to a mechanical aspirator or other types of an aspirator or other types of aspirators and to any type of machine.
If out of stock, email us to have it shipped to you within the week.This item is not eligible for next day delivery, delivery from this brand will take 1-3 days.