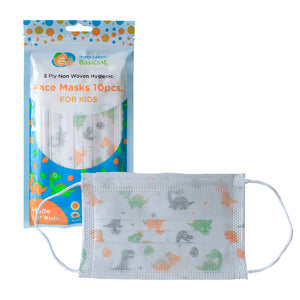 Orange and Peach Kids Face Masks 10s now comes in Resealable Travel Pack (10 pcs. Per pack) for convenience and hygiene purposes. These face masks are made of 3 ply non- woven material which is effective in filtrating droplets, dusts, pollens, and other allergens. The child friendly design encourages kids to wear them in order to help protect children from catching virus or spreading them. The mask has the following features: Made for kids, UV treated for maximum hygiene and sanitation during manufacturing process, 3 ply non-woven material to effectively filtrate droplets, Resealable travel pack for hygiene purposes, 10 pcs. Per pack, Particle Filtration Efficiency: ≥ 90% (0.3μm particle), Bacterial Filtration Efficiency: ≥ 95% (2.5μm particle)
How to Use
Use the ear loops and attach it comfortably on your child's ears. Adjust accordingly. The mask should cover your child's nose and mouth. The printed or colored side of the mask should face outwards. The mask is disposable after every use.
Special Instructions for Storage and Handling
Store the product in a cool and dry place away from direct sunlight. Always use this product under adult supervision.
Net weight: <1 kg
Product dimensions: 12 x 2 x 24 cm
If out of stock, email us to have it shipped to you within the week.