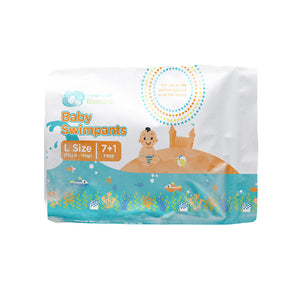 Orange and Peach Basics Swim Pants is made of a unique material that does not swell when in water to let your baby enjoy swimming without worries. Swim diapers help prevent bathroom "accidents" in the pool, significantly decrease the spread of fecal bacterial contamination, and prevent spread of bacteria like E. Coli. Such infections can be dangerous and potentially lethal to individuals in and around swimming pool facility. Orange and Peach Swim Pants has the following features: Special material that does not swell in water , Stretchy top and sides, Comfortable fit, Fun designs, Unisex, Easy to wear and remove even when wet

Special Instructions for Storage and Handling
Use under adult supervision. Do not leave the child unattended and with this plastic bag to avoid suffocation. Dispose used and soiled diapers responsibly.

Net weight: <1 kg
Product dimensions: 21 x 15 x 7 cm
If out of stock, email us to have it shipped to you within the week.