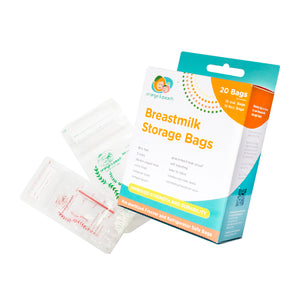 Orange and Peach combi breastmilk storage bags have a new and improved version and are now made more affordable. The improved version offers the most durable and strongest milk bags available because of its unique reinforced bottom and side seals. Orange and Peach Breastmilk Bags have the following features: 2 sizes in 1 box (10 8 oz. and 10 4 oz. bags), Extra thick, Reinforced side seals, Reinforced bottom seal, Double zipper lock, Presterilized

How to Use
Fill breastmilk storage bags according to the amount of breastmilk consumed per feeding. Never refreeze previously thawed frozen milk. When thawing frozen milk, it is best to thaw it overnight in the refrigerator before pouring into bottle. For faster thawing of frozen breastmilk, place the filled breastmilk storage bag in a bowl of warm water for about 20 minutes. Any unused and warmed breastmilk should be discarded at the end of the feeding.

Material
BPA and Phthalate Free
Net weight: <1 kg
Product dimensions: 11 x 4 x 16 cm
If out of stock, email us to have it shipped to you within the week.