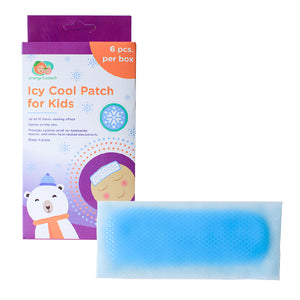 Orange and Peach Icy Cool Patch for Kids is a water-based cooling patch that helps absorb heat and provide immediate relief when your child becomes feverish. The patch stays securely in place and can provide cooling relief of up to 10 hours. It has the following features: Up to 10 Hours cooling effect, Provides cooling relief toothache, muscle, and other heat related discomforts, Gentle on the skin, Stays in Place, 6 Pcs. Per Box, Made in Taiwan

How to Use
Wipe clean and dry the skin area to be applied. Open pouch and remove 1 piece of cooling patch. You may use scissors to cut the cooling patch to your required size. Remove the protective film then place the gel patch side gently and securely on the skin.
Special Instructions for Storage and Handling
Reseal pouch tightly for any unused Icy Cool Patch. Leaving it exposed to air will decrease its cooling effects. You may choose to store it inside your refrigerator for enhanced cooling effect. Do not place in freezer. Do not use Icy Cool Patch on open wounds, rashes, burns, and other skin irritations.
Net weight: <1 kg
Product dimensions: 10 x 2.5 x 20 cm
If out of stock, email us to have it shipped to you within the week.