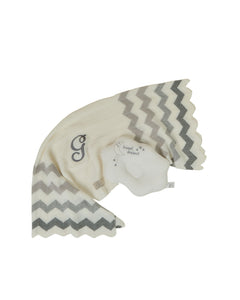 This collection of natural colored knit baby blankets are a must-have this season. Perfect for pretty much any occasion this on-trend baby essential is an ideal blanket, making it one of our best sellers. Beautiful hues & durable, mid-weight cotton knit allow for transition into baby's crib blanket as they grow.

We chose the most secure and comfortable fabric for your precious one. The cotton will not cause any allergic reactions while edges are finely stitched and compact.
Recommended age: Newborn to 6 months
Material: 100% cotton knit baby blanket that is stretchy, soft and baby friendly
Product dimensions: Measures 100cm x 80cm (39 inches x 31 inches)
Special instructions: Hand wash / Machine wash cold, tumble dry low

This item is personalized and is not eligible for same or next day delivery, delivery from this brand will take 3-5 days.