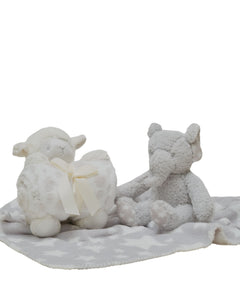 Our signature bedtime huggie plush toys combine two items essential to every baby's needs: a plush toy & a fleece baby blanket! This includes a stuffed animal for something fun for children to play with while awake and provides comfort and familiarity when trying to go to sleep at night.
Recommended age: Newborn to 5 years old
Material: 100% Polyester baby blanket that is soft and baby friendly
Product dimensions: Blanket Measures 75cm x 75cm, Toy Measures 28cm
Special instructions: Hand wash / Machine wash cold, tumble dry low

This item is personalized and is not eligible for same or next day delivery, delivery from this brand will take 3-5 days.