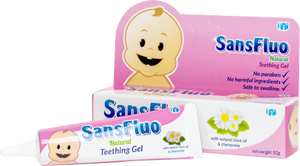 Give infants and little kids temporary relief from sore gums due to teething with SansFluo Natural Teething Gel. It contains Xylitol that gives a cooling effect in relieving pain, Raspberry Tincture to soothe gum inflammation and mouth ulcer, Chamomile for a natural sedative effect, and Clove Oil to help soothe teething pain.
How to Use:
1. Wash hands.
2. Cut open tip of the tube.
3. Use a small amount on cotton buds applicator.
4. Apply to affected gum area.
If out of stock, email us to have it shipped to you within the week.