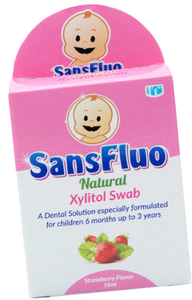 Scientists and dental experts worldwide recommend that children have regular applications of xylitol during the entire process of tooth eruption to prevent dental caries.
SansFluo Xylitol Swab has a high concentration of xylitol especially formulated for children 6 months up to 3 years of age. It is applied or coated on the tooth surface and gum line of children to inhibit the formation of plaque that causes the tooth decay, retards the growth of oral bad bacteria and prevents early childhood cavities.
If out of stock, email us to have it shipped to you within the week.